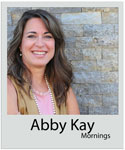 Abby Kay, host of the Most Music Morning Show on Mix 96.9, is originally from Rock Falls, Illinois, but has been in the north Alabama area for many years.  She is a mom of two children, a son, Corey and a daughter, Bailey; she loves to eat out (because she isn't very big on cooking), and spending time with her husband, Bill and the kids.  They enjoy going out on the boat during the summer – skiing, knee boarding and just soaking up the sun!  The beach is one of her favorite places – she enjoys just sitting on the beach and listening to the waves from sunup to sundown! Abby is also a huge fan of cute shoes – thankfully she loves shopping!
Abby's radio career began over 25 years ago, spending her entire career in the Huntsville market – 13 of those at WRSA! Getting up at 3:45am is not her favorite, but hosting the morning show on Mix 96.9 is an awesome challenge!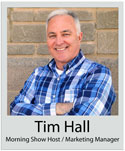 Tim Hall, hosts the Most Music Morning Show alongside Abby Kay. Many of you will recognize Tim from his days in television news. He's been everything from an anchor and reporter, to a full-time weather man at his first job in Paducah, Kentucky. Tim grew up in Huntsville but moved to St. Louis, Missouri at 10 years old. During his television career, Tim has interview some pretty cool people – including Bill Clinton, Paul Harvey, Gerald Ford and a handful of celebrities!  Tim is a history buff, with a minor in Political Science! His interest in radio began as a young "pup", watching his dad play records at a radio station in St. Louis – that was a long time ago, we no longer have records!
Tim and his wife, Lori, love the beach, college football and travel.  They have 2 sons, Matthew and Luke.