It's brand new!  Blair Davis keeps you company from 7pm until midnight, Monday through Friday with all things "after hours" – from dedications to information…just what you need to get you through the night!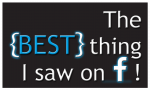 What was the best thing I saw on Facebook? Find out each weekday morning at 8:50am, and during After Hours!
Blair wants to hear from YOU!!  Click the button below to send her your song requests, your birthday/anniversary shoutouts (be sure to send them the day before), and any fun stories that you've heard!!