MEET THE MORNING SHOW TEAM – Abby Kay & Tim Hall
It's brand new, and we're excited to bring you new content, new contests and more on the Most Music Morning Show…here you'll find some interesting things that we've talked about during the morning show!
---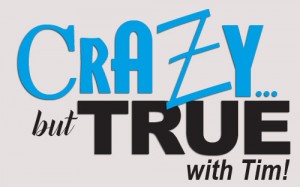 Join Tim as he brings us news stories that are actually true, but on the "crazy" side, each weekday morning at 6:15 and 7:45am.
7/20
Most all of us have heard of the Guinness Book of World Records. [Yeah..there are some bizarre things that people do to get in there.]
And here's a new one.  The guy we want to tell you about this morning..he holds the record for slicing watermelons on other people's stomachs. Now he holds a new record…slicing watermelon's on his OWN stomach.

He chopped through a total of 26.  He did have a team of helpers.  His first reaction to making it through… "I'm relieved that I didn't kill myself," "And the second is "I'm exhilarated, because it not only is a skillful record, but also it's something that I invented and now it's out there and other people can challenge it."
His advice to the rest of us…don't try this at home!  Yeah!  No kidding!
Some people…always gotta be CUTTIN' UP…HAHA!  It's Crazy But True!
---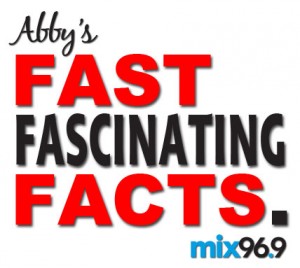 Did You Know?
Abby has some pretty interesting, sometimes odd, facts to share with listeners each weekday morning at 6:45 and 8:20!
Now it's easier than ever to sneak a lollipop into class. A team of designers created a pencil/candy hybrid. Instead of a boring, flavorless eraser at the end of a pencil they created a pencil topped with a delicious twist of candy to look like an eraser.
Dum Dum Suckers were given their name because it was believed to be a name that any kid could easily pronounce.
There's a line of lollipops for everyone. The insect lover has Hotlix a lollipop that specializes in earthier nibbles, such as scorpions, ants, worms and crickets. There are also some for the adults 21 and over by the candy company Lollyphile. They produce a variety of beer flavored ones, and for the wine lover they offer a Merlot, Chardonnay, and Cabernet.
---
7/23-27, 2018  It's Not Rocket Science, it's Trivia!

This week, Abby & Tim's trivia winners  will pick up pair of tickets to see Jeanne Robinson and the "Rocking Chair Tour" on August 19 in the VBC's Mark C. Smith Concert Hall.
---