Join Jerome "Fish" (as his friends call him) each afternoon for your drive home!  He's full of information about all kinds of stuff, and loves to share it with you!
---
**  Around 3pm each weekday (9/13-17), Fishing for Tickets will happen – his winners will pick up a Family 4 Pack of passes to Hidden Rivers Farm in Hartselle!  Visit hiddenriversfarm.com for details! **
---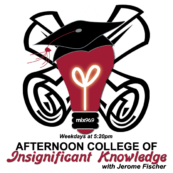 Listen for your chance to call in and win some awesome prizes – not every week, but on special occasions!
September 13 – 17 – Jerome has a pair of tickets to see Little River Band in concert on September 17 for his trivia winners this week!  No contest on Friday.  Tickets must be picked up at the Mix 96.9 studio.
---

"Jerome is what my momma named me, but my friends call me Fish, and you can too!"
He's a single dad with five wonderful children: Dylan, Jade, Trevor, Kingston and Lily; plus a beautiful granddaughter!  He served in the U.S. Army in Ft. Clayton, Panama, Central America. He loves all kinds of music, the outdoors, animals, fantasy football, reading, doing voice overs and production.
His radio career began 25+ years ago, and he's worked in cities from San Francisco to Orlando, and many points in between!  North Alabama, according to Jerome, just feels like home.