Mix 96.9 has brought the BEST talent to Huntsville!  All the way from Houston, Texas!  Help us welcome JR Cruz to our team – he'll be helping you "Cruz" home every afternoon from 3 until 7pm!
Find him on Facebook & Instagram @CruzMix969…or email him at jr@mix969huntsville.com (links below)!
---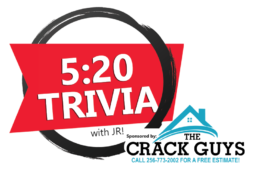 5:20 Trivia presented by The Crack Guys!
September 18 – 22 – It's a pair of tickets to the DeKalb County VFW Fair, coming to Ft. Payne September 25-30!
September 25 – 29 – JR has a family 4 pack of passes to Hidden Rivers Farm in Hartselle for his trivia winners this week!
---
Originally from South Texas by way of Houston, JR has been in radio since he was 15! He's done mornings and afternoon shows in cities like Corpus Christi, McAllen-Brownsville, Kansas City, Wichita, Dallas and Houston. He is also a certified chef and self-proclaimed foodie. He is always looking for the best food spots in and around town, he also enjoys volunteering at his church, charities, and hangin' out with his circle of friends. JR is always down for live sports, live music and being somewhere near the water for camping and fishing – with good company having great conversation and listening to good music!
Hero: Jesus and his Dad
Hobbies: Texas Hold'em, Grilling, Cooking, Eating and shopping
Favorite Foods: Cheeseburgers, French Fries, Asian Food, and of course, Tacos
Favorite Movie: Top Gun and Top Gun: Maverick
Favorite Artists: Rush, Def Leppard, Matchbox 20, Ed Sheeran and Lewis Capaldi – just to name a few.