The "Most Music Morning Show", is LIVE with Abby – it's bright, fun and family-friendly, with lots of music, frequent weather and news updates from WAFF 48, plus traffic reports from Bill Taylor, and up-to-date information about what's happening in and around the Tennessee Valley!
---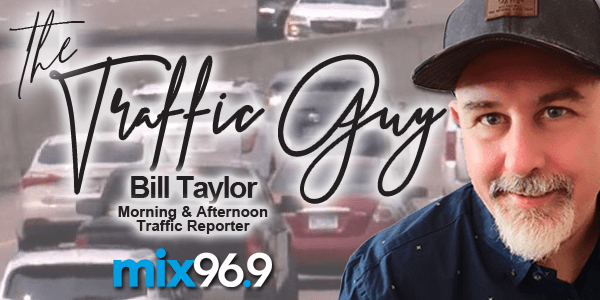 Helping Abby out in the mornings with your traffic reports – our Traffic Guy, Bill Taylor!  He'll keep you up-to-date on your morning commute, and your trip home in the afternoon by giving you the heads-up on traffic coming in and going out of the Huntsville area!
---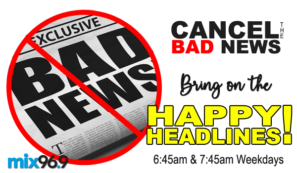 In the midst of all the negative in the news, Abby will be bringing you some "Happy Headlines" – each weekday morning at 6:45 and 7:45am!  Listen to hear some HAPPY news for a change!
It's a morning show feature here on Mix 96.9…because I feel like we could all use a little more good news in our lives…all bad news has been CANCELLED – at least for the moment.
A cyclist in England who calls himself the "Pedaling Picasso" just broke a world record for largest continuous GPS drawing by a bike. So in other words…the direction he took…over 66 miles….drew a picture on the map of a guy with a mustache to raise money for Movember…a charity that raises awareness on men's health issues.
A cat in Oregon might be the oldest living cat in the world, and could get an official record from Guinness. His name is Samm, and he's 26. That's two years older than the current record holder. The oldest EVER….Creme Puff…lived to be 38th.
You'll be happy to know…..Papa Murphy's new location on South Parkway is holding a open Grand Opening on Hobbs Road, behind the new Mapco. Stop by or order online.
Crocs is celebrating the holidays with a Nightmare Before Christmas clog. The black clogs have gray and white Jack Skellington faces and pins. They cost $60 and are almost sold out
---

No contests on 11/25 and 11/26 due to the Thanksgiving holidays!

November 29 – December 3 – This week, Abby's got a Family 4 Pack of tickets to Huntsville Ballet's presentation of The Nutcracker, on Friday, December 10 at 7:30pm in the Mark C. Smith Concert Hall at the VBC!
---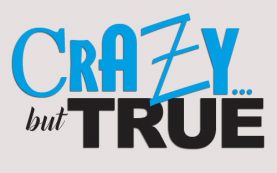 It's those news stories that are true, but on the "crazy" side, bringing sometime laughter, and other times leaving listeners scratching their heads!  Crazy But True can be heard at 6:15 and 8:20 each weekday morning!
11/29/2021 
A car hit a bowling ball . . . and then things got Crazy But True!
This is one of those stories where you don't think it can get weirder, but then it does . . .
A couple was driving through Kansas City recently when they hit a BOWLING BALL. But that's not the crazy part. Of course the bowling ball got lodged under the car. While the husband was underneath the vehicle trying to dislodge the bowling ball….some guy ran up and tried to steal the wife's purse. What did the wife do? Unfortunately she reacted by hitting the GAS and accidentally ran over her husband. Then she heard him yell out in pain, so she threw it in reverse . . . and accidentally ran him over a second time. The husband sustained some serious injuries, but luckily survived. The purse-snatcher ran off empty handed. It's…
Crazy But True!
---

Originally from Rock Falls, Illinois, Abby has been in radio for almost 30 years, and in the Huntsville market her entire career, with the last 16 at Mix 96.9. She started out as the midday host for the first 9 years, and has since transitioned into host of the morning show.
Abby loves spending time with her husband and 2 kids, and her beautiful granddaughter – eating at her favorite Mexican restaurant and most of all shopping for shoes!  Her favorite vacation destination is the beach!  One thing she couldn't live without…a good cup of coffee anytime of the day!