The "Most Music Morning Show" is LIVE with Abby & Bill – it's bright, fun and family-friendly, with lots of music, frequent weather and news updates from WAFF 48, plus traffic reports from Bill Taylor, and up-to-date information about what's happening in and around the Tennessee Valley!
---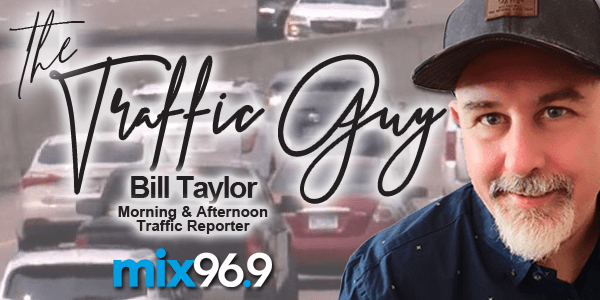 Helping Abby out in the mornings with your traffic reports – our Traffic Guy, Bill Taylor!  He'll keep you up-to-date on your morning commute, and your trip home in the afternoon by giving you the heads-up on traffic coming in and going out of the Huntsville area!
---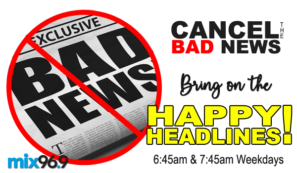 In the midst of all the negative in the news, Abby will be bringing you some "Happy Headlines" – each weekday morning at 6:45 and 7:45am!  Listen to hear some HAPPY news for a change!
It's a morning show feature here on Mix 96.9…because I feel like we could all use a little more good news in our lives…all bad news has been CANCELLED – at least for the moment.
So we start with a guy in Montreal who recently found out 60,000 pounds of potatoes would go to waste if no one bought them. So he spent $12,000 and gave them to his local food kitchen to feed people in need.

Independence High School in Ohio is struggling like a lot of schools. They don't have enough bus drivers or cafeteria workers to serve lunches. So the principal Ordered PIZZA! They placed a massive pizza order for everyone in the school. Who doesn't love a good pizza party.

Drivers on a Tennessee highway got the shock of their life but also made them smile big time. They got to see a 14-thousand pound cast iron skillet….the world's largest….on its way to the to the Lodge Cast Iron Museum. The museum is currently under construction and set to open late this summer, offering an immersive cast iron experience featuring the 18-foot skillet.

Oreo will be celebrating its 110th birthday in March . . . and to celebrate they're releasing a limited-edition that cookies filled with sprinkles and have two layers of filling including their signature white cream and a chocolate-cake flavored cream. The birthday cookies go on sale on January 31st.
---


January 17 – 21  – This week, Abby's trivia winners will pick up a pair of tickets to see the Huntsville Havoc take on the Birmingham Bulls on February 5!
---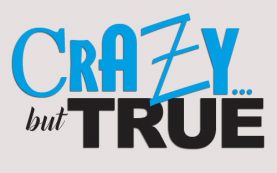 It's those news stories that are true, but on the "crazy" side, bringing sometime laughter, and other times leaving listeners scratching their heads!  Crazy But True can be heard at 6:15 and 8:20 each weekday morning!
1/18/2022
Most good students are rewarded with an A…but what these good students in Asia are given for all their hard work is Crazy But True.
So they are doing all the work and all the studying…but they don't get an A. Asia One says a school in China is rewarding hard-working students with….not an A….but with PIGS. Last week, the Xiangyang Elementary School gave 20 piglets to 20 students and their families for getting good grades. The school says, "This kind of reward has encouraged students but also helped their families. They don't see the benefits from the piglets immediately, but they will get more benefits from them in the future." Getting pigs
instead of an A…..it's…
CRAZY BUT TRUE!
---

Originally from Rock Falls, Illinois, Abby has been in radio for almost 30 years, and in the Huntsville market her entire career, with the last 16 at Mix 96.9. She started out as the midday host for the first 9 years, and has since transitioned into host of the morning show.
Abby loves spending time with her husband and 2 kids, and her beautiful granddaughter – eating at her favorite Mexican restaurant and most of all shopping for shoes!  Her favorite vacation destination is the beach!  One thing she couldn't live without…a good cup of coffee anytime of the day!