The "Most Music Morning Show" is LIVE with Abby & Bill – it's bright, fun and family-friendly, with lots of music, frequent weather and news updates from WAFF 48, plus traffic reports from Bill Taylor, and up-to-date information about what's happening in and around the Tennessee Valley!
---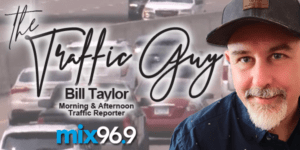 Our Traffic Guy, also Bill Taylor – keeps you up-to-date on your morning commute, and your trip home in the afternoon by giving you the heads-up on traffic coming in and going out of the Huntsville area!
---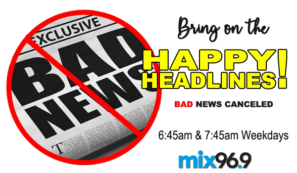 This month, Happy Headlines is sponsored by Lipton Ice Green Tea Citrus!  Find yours today – google Lipton Iced Tea for a deal near you!
In the midst of all the negative in the news, Abby will be bringing you some "Happy Headlines" – each weekday morning at 6:45 and 7:45am!  Listen to hear some HAPPY news for a change!
It's a morning show feature here on Mix 96.9…because I feel like we could all use a little more good news in our lives…all bad news has been CANCELLED – at least for the moment.
Some spelunkers were exploring Missouri's second-longest cave recently and found a lost dog that had been missing for two months.  Her name is Abby, and she's a senior dog.  Once they got her out, they went door-to-door looking for her owner until they found them.
A proud mom in New Jersey bought a billboard ad to let people know her daughter is a doctor now, to the tune of $1,250.  She did it to congratulate her, but also to inspire kids in Camden.
A 44-year-old runner recently raised money for the World Wildlife Fund by becoming the first person to run across Ireland in under 24 hours.  Robert ran 134 miles from Galway to Dublin in 23 hours and 39 minutes.  And since it's Ireland, he had a pint of Guinness before AND after the run.
Food makes everybody happy right?  In honor of Huntsville's Restaurant Week, we are highlighting the many great eateries around town.  Like Bubby's Diner on Whitesburg Dr.  This throwback 50s inspired diner serves burgers, fries, malts and more .  Bubby's will feature a Three Course Dinner…2 for $30 during restaurant week starting this TODAY.
---

August 15 – 19  – This week, it's Huntsville Restaurant Week, and Abby & Bill have gift cards to some great local establishments, PLUS a pair of tickets to see Air Supply on August 27!
---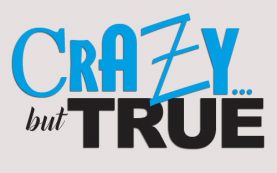 It's those news stories that are true, but on the "crazy" side, bringing sometime laughter, and other times leaving listeners scratching their heads!  Crazy But True can be heard at 6:15 and 8:20 each weekday morning!
8/12/2022 
This is NOT something you would expect at a funeral….and it is Crazy But True.
Everything was going as usual at this mother's funeral recently…..that is until family drama was brought into the mix. It started with an argument between a brother and sister, who, by the way, have not gotten along for many years. And then the boyfriend got involved…encouraging her to walk away. Yep that didn't happen. The brother started beating on the boyfriend, and that's when it escalated and it became an all out brawl with about 20 other family members. The brother got into the vehicle with the intention of driving over his sister. In the process he knocked over and damaged headstones, broke a water main that ejected copious amounts of water and flooded the funeral plot…and yes….he knocked over the casket. But fortunately it did not come open. The brother was arrested for felony assault with a deadly weapon. The funeral fight caused $20,000 in damages and it is…
CRAZY BUT TRUE!
---

Originally from Rock Falls, Illinois, Abby has been in radio for almost 30 years, and in the Huntsville market her entire career, with the last 16 at Mix 96.9. She started out as the midday host for the first 9 years, and has since transitioned into host of the morning show.
Abby loves spending time with her husband and 2 kids, and her beautiful granddaughter – eating at her favorite Mexican restaurant and most of all shopping for shoes!  Her favorite vacation destination is the beach!  One thing she couldn't live without…a good cup of coffee anytime of the day!