The "Most Music Morning Show" is LIVE with Abby – it's bright, fun and family-friendly, with lots of music, frequent weather and news updates from WAFF 48, plus traffic reports from Mix 96.9's own Allen Moore, and up-to-date information about what's happening in and around the Tennessee Valley!
---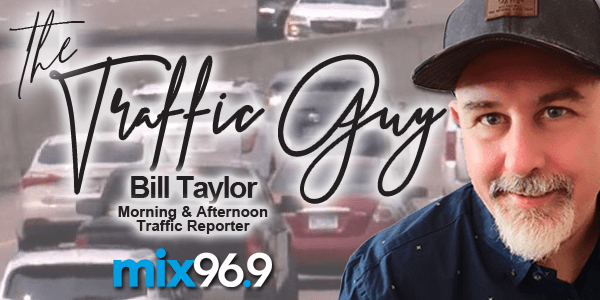 Helping Abby out in the mornings with your traffic reports – our Traffic Guy, Bill Taylor!  He'll keep you up-to-date on your morning commute, and your trip home in the afternoon by giving you the heads-up on traffic coming in and going out of the Huntsville area!
---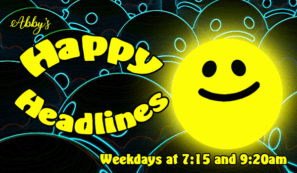 In the midst of all the negative in the news, Abby will be bringing you some "Happy Headlines" – each weekday morning at 6:45 and 7:45am!  Listen to hear some HAPPY news for a change!
It's a new feature here on Mix 96.9…because I feel like we could all use a little more good news in our lives…… Bad news has been CANCELLED…..at least for the moment.
Participating Krispy Kreme donut shops are giving away free donuts to teachers next week. Teachers can obtain the free glazed donuts by showing their school ID.
A Virginia man recently won the lottery 25 times. Raymond bought 25 tickets and played the Pick 4 using the combination 4-6-4-0. He won the game's top prize of $5,000 on each of his tickets for a grand total of $125,000. The chances of winning the Pick-4 are 1 in 10,000. Harrington plans to use his winnings to help his sons pay for college.
Heather Sherwood, of Arkansas, has spent her time in quarantine building luxury chicken coops for her chickens. The coops have crystal chandeliers, rare artwork and curtains. They take six weeks to build.
Cinemagic in Athens is making you happy with their Drive in double features. This weekend it's Madagascar & Harry Potter The Chamber of Secrets…..cinemagictheatre.net for more….and join us next week for your chance to win tickets!
---

August 10 – 14
This week, Abby's trivia winners will receive a Family 4 Pack of tickets to Cinemagic Theatre in Athens – for a weekend, Drive-In double feature!
*Tickets will be mailed to winners, and are good through August 31, 2021.
---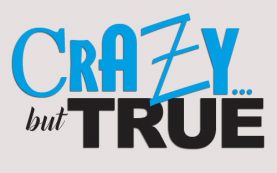 It's those news stories that are true, but on the "crazy" side, bringing sometime laughter, and other times leaving listeners scratching their heads!  Crazy But True can be heard at 6:15 and 8:20 each weekday morning!
8/7
87 Year-Old Sets Ironman World Record and it is Crazy But True!
The Ironman competition includes a 2.4 mile swim, a 112 mile bike ride, and a 26.2 mile run. Which would be hard enough for even the most young and fit athlete. But this Hawaii resident, Hiromu, recently set a Guinness World Record for being the oldest person to complete the Ironman World Championship. At 87, Hiromu completed the course in just under 17 hours. Now again, did I mention that it is over 2 miles of swimming, a 26 mile run and 112 mile bike ride. And by the way – he's completed this race three times, and has competed for eight years. Hiromu's goal is to see how long he can keep competing and it's…
Crazy But True!
---

Originally from Rock Falls, Illinois, Abby has been in radio for almost 30 years, and in the Huntsville market her entire career, with the last 16 at Mix 96.9. She started out as the midday host for the first 9 years, and has since transitioned into host of the morning show.
Abby loves spending time with her husband and 2 kids, eating at her favorite Mexican restaurant and most of all shopping for shoes!  Her favorite vacation destination is the beach!  One thing she couldn't live without…a good cup of coffee anytime of the day!