The "Most Music Morning Show" is LIVE with Abby & Bill – it's bright, fun and family-friendly, with lots of music, frequent weather and news updates from WAFF 48, plus traffic reports from Bill Taylor, and up-to-date information about what's happening in and around the Tennessee Valley!
---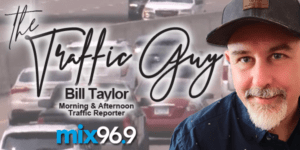 Our Traffic Guy, also Bill Taylor – keeps you up-to-date on your morning commute, and your trip home in the afternoon by giving you the heads-up on traffic coming in and going out of the Huntsville area!
---

In the midst of all the negative in the news, Abby will be bringing you some "Happy Headlines", each weekday morning at 6:45 and 7:45am!  Listen to hear some HAPPY news for a change!
It's a morning show feature here on Mix 96.9…because I feel like we could all use a little more good news in our lives…all bad news has been CANCELLED – at least for the moment.
A Chick-fil-A employee recently saved a young girl from choking on a coin. Lilian screamed for help when her daughter, started gasping. That's when the employee, quickly stepped in to action, performed the Heimlich maneuver and saved the child's life.
An animal charity called Draw for Paws recently launched a new program called "Grandpaws" . . . P-A-W-S . . . to help older pets get adopted from shelters.  They're having people in retirement homes paint pictures of them, and posting them online.
Moe's Southwest grill is celebration National Queso Day this week with free cheese dip…but not just for one day. Through Sunday, at participating Moe's locations…. all guests get a free cup of queso…and there's no purchase…you just have to sign up for their rewards program.
And speaking of cheese….Doritos recently set a new world record by using a helicopter to dip a giant chip into cheese. The cheese stretched for 49 feet without breaking.
---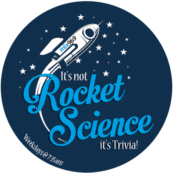 September 25 – 29
Abby and Bill have a pair of tickets to the Tennessee Valley Old Time Fiddler's Convention, held at Athens State University on October 4 – 8!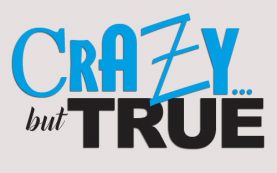 ---
It's those news stories that are true, but on the "crazy" side, bringing sometime laughter, and other times leaving listeners scratching their heads!  Crazy But True can be heard at 6:15 and 8:20 each weekday morning!
9/22/2023
Losing something pricey like an Apple Watch is NOT good . . . and you might be willing to do crazy things to find it. But there's a line you just CAN'T cross. It's Crazy But True…
A woman in Michigan was in an outhouse on Tuesday morning, when she dropped her Apple Watch….yes, INTO the toilet. Bad right…… But what happens next is the crazy part…… The woman decided to try and retrieve the watch by "lowering herself inside the toilet." It was big enough that she fit down inside . . . but then she got STUCK.  She yelled for help, and someone called the police.
First responders showed up and found her, "in the muck." They removed the top, and then used a strap to "hoist" her out to safety.  And in case you were wondering, she did manage to retrieve the now…..disgusting….. watch.   Afterward, the police issued a public reminder saying, "If you lose an item in an outhouse toilet, do not attempt to go inside the containment area.  Serious injury may occur."  You think?
Crazy, But True!
---

Originally from Rock Falls, Illinois, Abby has been in radio for almost 30 years, and in the Huntsville market her entire career, with the last 16 at Mix 96.9. She started out as the midday host for the first 9 years, and has since transitioned into host of the morning show.
Abby loves spending time with her husband and 2 kids, and her beautiful granddaughter – eating at her favorite Mexican restaurant and most of all shopping for shoes!  Her favorite vacation destination is the beach!  One thing she couldn't live without…a good cup of coffee anytime of the day!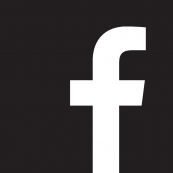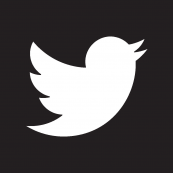 Being from Connecticut, Bill is a huge New England Patriot fan!  His career in radio began there and has taken him through Massachusetts, Central Pennsylvania…and along the journey, he's met some pretty cool people – Sting, Van Halen, Aerosmith, TobyMac, Lauren Daigle and more!
Bill and his wife have three kids, two of which attend the University of Alabama Huntsville, and they all definitely take advantage of the fact that his ears "are shot"!
As the Mix 96.9 Morning Show Co-Host and "Traffic Guy", Bill adds his quick wit and humor to the morning show along with making sure you know everything you need to know in order to get to and from work safely Monday through Friday morning and afternoon.
When not hanging out in the Mix 96.9 studio, he and his wife take advantage of all the great sights and sounds, and, of course, the local food scene in and around the Huntsville area!