The "Most Music Morning Show" is LIVE with Abby & Bill – it's bright, fun and family-friendly, with lots of music, frequent weather and news updates from WAFF 48, plus traffic reports from Bill Taylor, and up-to-date information about what's happening in and around the Tennessee Valley!
---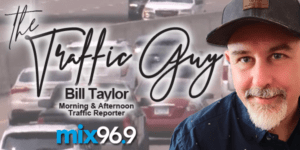 Helping Abby out in the mornings with your traffic reports – our Traffic Guy, Bill Taylor!  He'll keep you up-to-date on your morning commute, and your trip home in the afternoon by giving you the heads-up on traffic coming in and going out of the Huntsville area!
---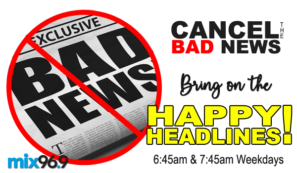 In the midst of all the negative in the news, Abby will be bringing you some "Happy Headlines" – each weekday morning at 6:45 and 7:45am!  Listen to hear some HAPPY news for a change!
It's a morning show feature here on Mix 96.9…because I feel like we could all use a little more good news in our lives…all bad news has been CANCELLED – at least for the moment.
Jeff Bezos ex-wife Mackenzie Scott is at it again…..donating a record $122 million to Big Brothers Big Sisters  She wants to help ensure every child in America has a strong role model to look up to. Mackenzie has donated $12.5 billion to 1,253 nonprofits since 2020.
A mom in Texas created a Facebook group to help other parents find baby formula.  It's called Formula Fed Babies, and 3,000 people have already joined.  She says she hopes the shortage will end soon, and it won't be needed anymore.
A guy named Josh who jokingly challenged other Joshes to a fight on Twitter held his second annual "Josh Fight" event. Joshes
from all over showed up and battled it out with pool noodles and raised over $20,000 for charity.
A new mash-up of Ritz crackers and Oreo cookies goes on sale today at 11am at Oreo.com/Ritz. One half is an Oreo cookie
with cream, and the other half is a Ritz cracker with peanut butter.  Once they sell out, that's it.  It doesn't sound like they'll
be in stores anytime soon.
---


May 23 – 27  – This week, Abby's trivia winners will pick up a pair of movie passes to Cineplanet in Madison!
---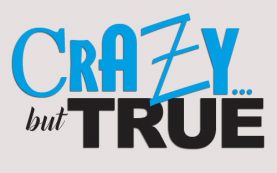 It's those news stories that are true, but on the "crazy" side, bringing sometime laughter, and other times leaving listeners scratching their heads!  Crazy But True can be heard at 6:15 and 8:20 each weekday morning!
5/26/2022
Something you would never expect to find in the middle of the road…….and it's Crazy But True!
Police in Louisiana made a bizarre discovery late Saturday night, when they came across a HOUSE that was abandoned . . . in the
middle of a road. The house was on the back of a trailer being hauled by a truck.  It was completely blocking both sides of the
road.  And in its wake, there was a string of damaged mailboxes. . . road signs . . . trees . . . power lines and poles. The police arrested the homeowner and an accomplice for criminal damage to property, and obstruction of a highway. Apparently the owner chose to ignore the permits needed and move it on his own. It's unclear what the cops did with the house. It's…
CRAZY BUT TRUE!
---

Originally from Rock Falls, Illinois, Abby has been in radio for almost 30 years, and in the Huntsville market her entire career, with the last 16 at Mix 96.9. She started out as the midday host for the first 9 years, and has since transitioned into host of the morning show.
Abby loves spending time with her husband and 2 kids, and her beautiful granddaughter – eating at her favorite Mexican restaurant and most of all shopping for shoes!  Her favorite vacation destination is the beach!  One thing she couldn't live without…a good cup of coffee anytime of the day!