The "Most Music Morning Show" is LIVE with Abby – it's bright, fun and family-friendly, with lots of music, frequent weather and news updates from WAFF 48, plus traffic reports from Bill Taylor, and up-to-date information about what's happening in and around the Tennessee Valley!
---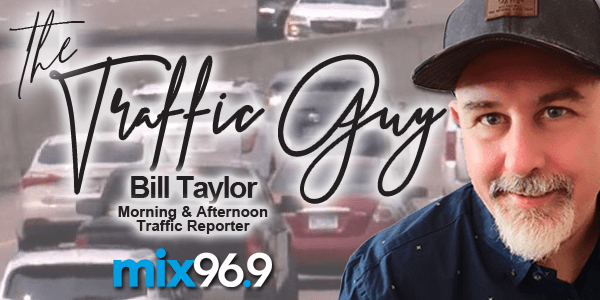 Helping Abby out in the mornings with your traffic reports – our Traffic Guy, Bill Taylor!  He'll keep you up-to-date on your morning commute, and your trip home in the afternoon by giving you the heads-up on traffic coming in and going out of the Huntsville area!
---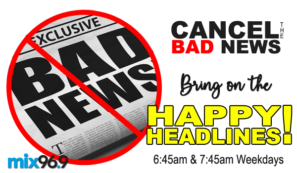 In the midst of all the negative in the news, Abby will be bringing you some "Happy Headlines" – each weekday morning at 6:45 and 7:45am!  Listen to hear some HAPPY news for a change!
It's a new feature here on Mix 96.9…because I feel like we could all use a little more good news in our lives…… Bad news has been CANCELLED…..at least for the moment.
The Beech Bend Amusement Park, in Bowling Green, Kentucky, is allowing families to rent out their theme park. A family of six can rent the park for two hours for $5,000. This allows them to ride coasters without having to worry about the coronavirus
Mikell Burr of Kansas was cleaning out her garage over Labor Day weekend when she found a Bronze Star, Purple Heart, and a veteran's dog tags. After some research, she found out the items belonged to a 97-year-old WWII veteran. She brought them back to him in a new wooden box and said it was an honor to find his medals.
FedEx is hiring…..70,000 workers heading into the holiday season. They, of course, expect to see a large number of
packages during the peak holiday shipping season.
Nike is planning to celebrate Halloween by selling Freddy Krueger sneakers. The brown and red shoes resemble Freddy's sweater. The back of the shoes feature drops of blood. The inside of the shoes have a bloody Nike Swoosh. The sneakers will go on sale sometime next month.
---

September 21-25
This week, Abby's trivia winners will pick up a Family 4 Pack of passes to the Intuitive Planetarium at the US Space & Rocket Center (does not include admission to the Rocket Center).
---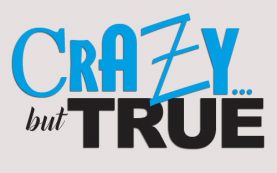 It's those news stories that are true, but on the "crazy" side, bringing sometime laughter, and other times leaving listeners scratching their heads!  Crazy But True can be heard at 6:15 and 8:20 each weekday morning!
9/18
Plan on going to the moon anytime soon? Well if you do….you're going to want to know about this….and yes, it's Crazy But True!
In an effort to boost commercial space ventures, NASA is willing to buy moon rocks from any company that goes to the moon and gets them. In a request for bids, the space agency says it will pay a contractor for up to a pound of rock from the lunar surface.
NASA pledges to purchase the samples for between $15,000 and $25,000. The contractor must provide imagery and other data about where the material was collected on the moon. NASA wants the material in hand before 2024, which is when the
agency plans to land the next manned space flights on the moon. So if you're going to the moon you have to let us know….because that would definitely be…
Crazy But True!
---

Originally from Rock Falls, Illinois, Abby has been in radio for almost 30 years, and in the Huntsville market her entire career, with the last 16 at Mix 96.9. She started out as the midday host for the first 9 years, and has since transitioned into host of the morning show.
Abby loves spending time with her husband and 2 kids, eating at her favorite Mexican restaurant and most of all shopping for shoes!  Her favorite vacation destination is the beach!  One thing she couldn't live without…a good cup of coffee anytime of the day!