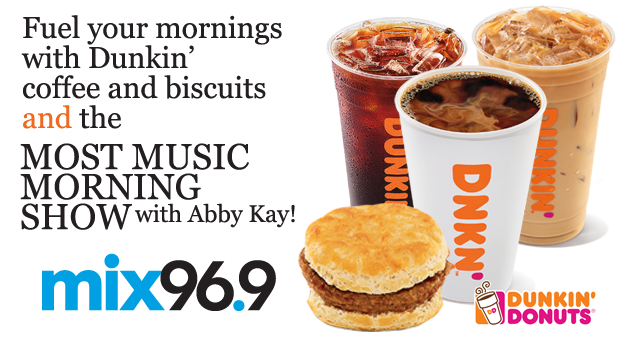 Sponsored by Dunkin' Donuts – The "Most Music Morning Show", is LIVE with Abby – it's bright, fun and family-friendly, with lots of music, frequent weather and news updates from WAFF 48, plus traffic reports from Bill Taylor, and up-to-date information about what's happening in and around the Tennessee Valley!
---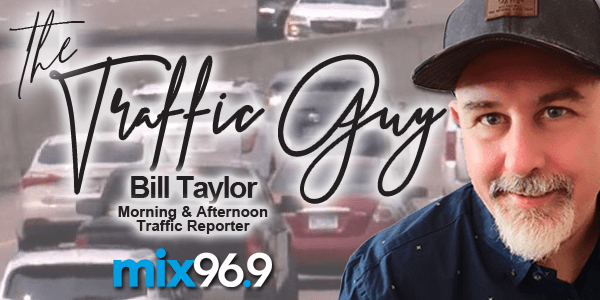 Helping Abby out in the mornings with your traffic reports – our Traffic Guy, Bill Taylor!  He'll keep you up-to-date on your morning commute, and your trip home in the afternoon by giving you the heads-up on traffic coming in and going out of the Huntsville area!
---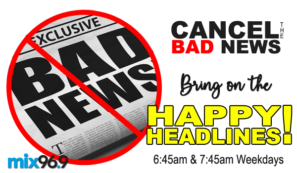 In the midst of all the negative in the news, Abby will be bringing you some "Happy Headlines" – each weekday morning at 6:45 and 7:45am!  Listen to hear some HAPPY news for a change!
It's a morning show feature here on Mix 96.9…because I feel like we could all use a little more good news in our lives…all bad news has been CANCELLED – at least for the moment.
A woman recently bought an old nightstand at Goodwill and found a note inside with her parents's old PHONE NUMBER on it. It turned out it was her sister's friend's nightstand when they were a kid.
Health care workers and first responders will be honored next month with a ticker tape parade in New York City. The "Hometown Heroes" event will be held on July 7th.
Apple may add a glucose monitor and body temperature sensor to future Apple watches.
Last month, a Waffle House employee in Alabama named Timothy Harrison asked for a day off to go to his high school graduation. But then he showed up that morning and said he wasn't going, because he didnt have nice clothes or a ride across town. His boss and two other employees went to a clothing store to buy him some dress clothes. But here's the best part: A community college heard about the story. And now they're giving Timothy free tuition and books.
---


June 14 – 18, 2021 – Dunkin' is back!  Winners will pick up a $25 gift card and some awesome Dunkin' swag!
---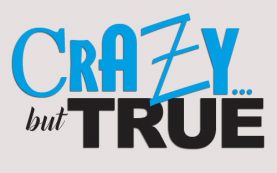 It's those news stories that are true, but on the "crazy" side, bringing sometime laughter, and other times leaving listeners scratching their heads!  Crazy But True can be heard at 6:15 and 8:20 each weekday morning!
6/16/2021 
A thief who stole a van….got waaaaay more than he bargained for! And it is Crazy But True!
According to reports, Jose found a key fob on the ground next to a van that was parked at a convenience store. But this wasn't just any van….it was a mortuary van…and he probably should have checked for other "passengers" before driving off.
Apparently mortuary workers had placed two bodies inside the van and were on their way to the crematorium. Armed with
descriptions of both the suspect and the van….cops quickly found him and arrested him for stealing the van, improper removal of a dead person and for drug possession.  Yes, my friends…it's…
Crazy But True!
---

Originally from Rock Falls, Illinois, Abby has been in radio for almost 30 years, and in the Huntsville market her entire career, with the last 16 at Mix 96.9. She started out as the midday host for the first 9 years, and has since transitioned into host of the morning show.
Abby loves spending time with her husband and 2 kids, eating at her favorite Mexican restaurant and most of all shopping for shoes!  Her favorite vacation destination is the beach!  One thing she couldn't live without…a good cup of coffee anytime of the day!