The "Most Music Morning Show" is LIVE with Abby – it's bright, fun and family-friendly, with lots of music, frequent weather and news updates from WAFF 48, plus traffic reports from Bill Taylor, and up-to-date information about what's happening in and around the Tennessee Valley!
---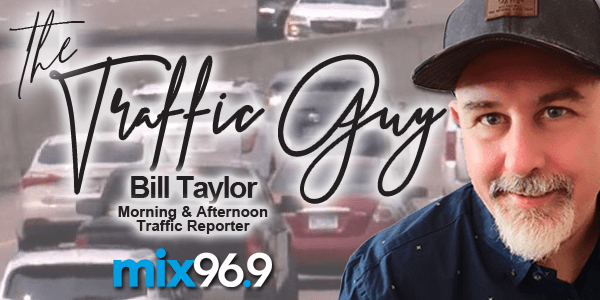 Helping Abby out in the mornings with your traffic reports – our Traffic Guy, Bill Taylor!  He'll keep you up-to-date on your morning commute, and your trip home in the afternoon by giving you the heads-up on traffic coming in and going out of the Huntsville area!
---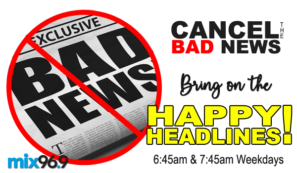 In the midst of all the negative in the news, Abby will be bringing you some "Happy Headlines" – each weekday morning at 6:45 and 7:45am!  Listen to hear some HAPPY news for a change!
It's a new feature here on Mix 96.9…because I feel like we could all use a little more good news in our lives…… Bad news has been CANCELLED…..at least for the moment.
A 12 year old from California was honored last week for rescuing a two year old from a burning car. The car was on fire inside a garage when Alyna pulled the toddler to safety and used a garden hose to put out the flames on his clothing. The local fire department held a ceremony to recognize her bravery.
A High school in Texas has opened a grocery store, right in the middle of the school. The one catch…the store does not accept money as payment. The store only accepts good deeds. Groceries and other items were donated by local businesses.
The original Gerber baby, Anne Turner Cook, recently celebrated her 94th birthday. She became Gerber baby foods first baby face after her neighbor submitted a charcoal sketch of her for a contest. Cook spent the majority of her life teaching English.
The latest viral TikTok video is spreading the Christmas spirit. A Fed Ex driver was caught singing and dancing and…well you have to see the video…to Mariah Carey's "All I want for Christmas is You", while sitting in his truck. This one will definitely make you smile….check it out on my Facebook page (link below).
---

November 23 – 27
It's Thanksgiving week, so no contests on Thursday and Friday!
Winners Monday through Wednesday will pick up a pair of tickets to Fantasy Playhouse Children's Theatre's "A Christmas Carol".
---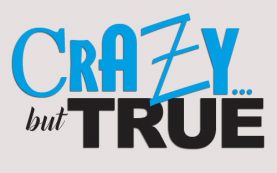 It's those news stories that are true, but on the "crazy" side, bringing sometime laughter, and other times leaving listeners scratching their heads!  Crazy But True can be heard at 6:15 and 8:20 each weekday morning!
11/24
Remember the Popeye's Chicken Sandwich madness? Just wait till you hear what happened at a new In-N-Out burger….It's Crazy But True!
In-N-out burgers are good, but I'm not sure they are THIS good. A massive 14 hour line formed as two new restaurants opened up in Colorado last Friday. One guy arrived at the burger joint at 8:30 the night before opening, just to be the first in line. Police had to be called for crowd control and posted "It's official, traffic is double double animal style right now all around the mall" – the estimated line was about a mile and a half to 2 miles. And of course tempers flared at one of the locations when two men were involved in a fist fight. Thinking somebody may have cut in line?
Known for their not so secret menu….their grand opening was not so secret as well. Waiting 14 hours for burgers and shakes at In-N-out…now that's…
Crazy But True!
---

Originally from Rock Falls, Illinois, Abby has been in radio for almost 30 years, and in the Huntsville market her entire career, with the last 16 at Mix 96.9. She started out as the midday host for the first 9 years, and has since transitioned into host of the morning show.
Abby loves spending time with her husband and 2 kids, eating at her favorite Mexican restaurant and most of all shopping for shoes!  Her favorite vacation destination is the beach!  One thing she couldn't live without…a good cup of coffee anytime of the day!