The "Most Music Morning Show" is LIVE with Abby – it's bright, fun and family-friendly, with lots of music, frequent weather and news updates from WAFF 48, plus traffic reports from Bill Taylor, and up-to-date information about what's happening in and around the Tennessee Valley!
---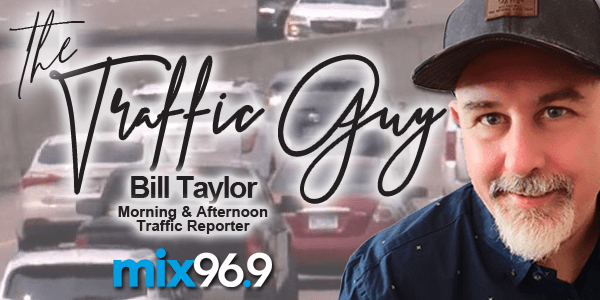 Helping Abby out in the mornings with your traffic reports – our Traffic Guy, Bill Taylor!  He'll keep you up-to-date on your morning commute, and your trip home in the afternoon by giving you the heads-up on traffic coming in and going out of the Huntsville area!
---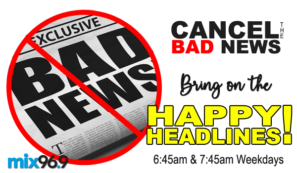 In the midst of all the negative in the news, Abby will be bringing you some "Happy Headlines" – each weekday morning at 6:45 and 7:45am!  Listen to hear some HAPPY news for a change!
It's a new feature here on Mix 96.9…because I feel like we could all use a little more good news in our lives…all bad news has been CANCELLED – at least for the moment.
It's happened again, that $600 stimulus check was used as a tip – this time given to a server at a Pizzeria in Ohio. The customer wrote the following message on the receipt "I have been able to work as normal throughout the pandemic but still got stimulus $, so I want to share with you all!"
Singer Post Malone is giving 10,000 pairs of Crocs to frontline workers. The non-profit Musicians on Call is helping with the donation. Caregivers at 70 hospitals nationwide will have the added support of their Crocs to help them through their day.
A 1952 Mickey Mantle baseball card has just sold for over five-million dollars at auction. The card was reportedly in mint condition and one of only a few in existence.
And America's Thrift Store is coming to Huntsville this March in the old Kroger building on Drake. Beginning Monday, they will be hosting a job fair, looking to hire about 100 employees.
Nowhiring.com/americasthriftstore and search Hsv. By the way…ladies, you're going to love shopping in this store….because it's not your mama's thrift store!
---


January 11 – 15, 2021 – This week, Abby's winners will pick up a $50 gift card to Tom Brown's Restaurant, PLUS 2 samples of RefreshStix mask sprays!
---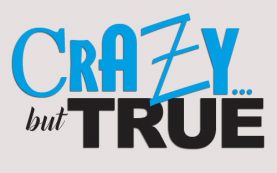 It's those news stories that are true, but on the "crazy" side, bringing sometime laughter, and other times leaving listeners scratching their heads!  Crazy But True can be heard at 6:15 and 8:20 each weekday morning!
1/15/2021 
Bel Air, California….the land of excess, extravagance and a one-of-a kind home – that is Crazy But True!
Some are calling it the world's largest and America's priciest home ever…and it is now on the market. For starters, this estate has 105,000 square feet of living space, and is surrounded on
three sides by a moat and a jogging track. The home has views of downtown Los Angeles, the Pacific Ocean and an entryway that is filled with water and has a bridge. Amenities include 42 bathrooms, 21 bedrooms,…the master is 5500 square feet. There is a 30-car garage, a bowling alley, a 30-seat movie theater, a skydeck and FIVE swimming pools…oh did I mention there's a full service beauty salon.
Due to recent changes to city ordinances a house like this will never be built again in Los Angles, so it's a one of a kind! And at price of $350 million, it is…
Crazy But True!
---

Originally from Rock Falls, Illinois, Abby has been in radio for almost 30 years, and in the Huntsville market her entire career, with the last 16 at Mix 96.9. She started out as the midday host for the first 9 years, and has since transitioned into host of the morning show.
Abby loves spending time with her husband and 2 kids, eating at her favorite Mexican restaurant and most of all shopping for shoes!  Her favorite vacation destination is the beach!  One thing she couldn't live without…a good cup of coffee anytime of the day!