The "Most Music Morning Show", is LIVE with Abby – it's bright, fun and family-friendly, with lots of music, frequent weather and news updates from WAFF 48, plus traffic reports from Bill Taylor, and up-to-date information about what's happening in and around the Tennessee Valley!
** This week, Monday through Wednesday (9/13-15), right around 8am, Abby's got some Christopher Cross tickets to give away!  The show is September 16 in the Mars Music Hall! **
---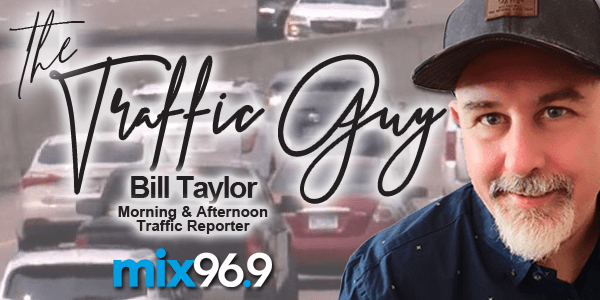 Helping Abby out in the mornings with your traffic reports – our Traffic Guy, Bill Taylor!  He'll keep you up-to-date on your morning commute, and your trip home in the afternoon by giving you the heads-up on traffic coming in and going out of the Huntsville area!
---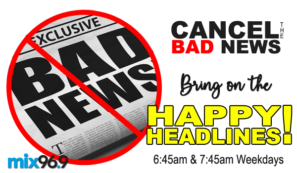 In the midst of all the negative in the news, Abby will be bringing you some "Happy Headlines" – each weekday morning at 6:45 and 7:45am!  Listen to hear some HAPPY news for a change!
It's a morning show feature here on Mix 96.9…because I feel like we could all use a little more good news in our lives…all bad news has been CANCELLED – at least for the moment.
This month, Happy Headlines is sponsored by Lipton Iced Tea. STOP chuggin' and START sippin' with those you care about most. Google 20 ounce Lipton Ice Tea to find a 20oz Lipton Tea deal near you! Now that's something to smile about.
Dressed in a bear suit…..Jesse Larios is putting lots of smiles on faces while walking down an Oklahoma Hwy. It's a 78 pound suit, 96 degrees outside and he's averaging about 28 miles a day. The goal is 2700 miles and raising money for 6 different charities.
It was a VERY HAPPY ending for a chicken being attacked by a Hawk…thanks to his farm animal friends. First, a rooster ran in and started attacking the hawk. Then a GOAT broke it up, the hawk flew away and the Chicken survived. The video of it has now been viewed more than a half million times. Check it out on my facebook.
We want to say HAPPY BIRTHDAY to Japan's Tanaka Kane who is now the world's oldest person at 118. She says the key to her long life is chocolate and Coca-Cola.
And here's something to look forward to…..Hershey's just unveiled its new holiday candy line-up, including Reese's Peanut Brittle…..it looks like a Reese's Peanut Butter Cup, but it's crunchy peanut butter encased in peanut brittle-flavored cream and Gingerbread Kit Kats.
---


September 13 – 17 – Boz Skaggs is coming to the Von Braun Center's Mark C. Smith Concert Hall on October 12 and Abby has pairs of tickets to give away during "It's Not Rocket Science, It's Trivia" this week!
---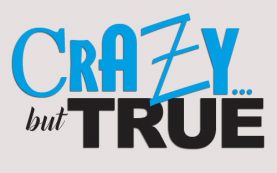 It's those news stories that are true, but on the "crazy" side, bringing sometime laughter, and other times leaving listeners scratching their heads!  Crazy But True can be heard at 6:15 and 8:20 each weekday morning!
9/16/2021 
It's a World Record that is Crazy But True!
When meeting "famous" people we typically like to have them sign, posters, t-shirts, albums, cd's, but this "social media entertainer" took it to a whole new level. So Juan Mattas used to work as a tattoo artist and was trying to come up with a unique project to take on. That project turned into a Guinness World Record for the most signatures tattooed on his back. 225 to be exact. Juan started out having family members sign their names with his tattoo machine …but it didn't stop there. Several celebrities have tattooed their signatures on him as well…including Gerard Butler, Will Smith, Elijah Wood, Michael J. Fox, Christopher Lloyd and more. The goal 300 signatures tattooed on his back. It's…
Crazy But True!
---

Originally from Rock Falls, Illinois, Abby has been in radio for almost 30 years, and in the Huntsville market her entire career, with the last 16 at Mix 96.9. She started out as the midday host for the first 9 years, and has since transitioned into host of the morning show.
Abby loves spending time with her husband and 2 kids, eating at her favorite Mexican restaurant and most of all shopping for shoes!  Her favorite vacation destination is the beach!  One thing she couldn't live without…a good cup of coffee anytime of the day!