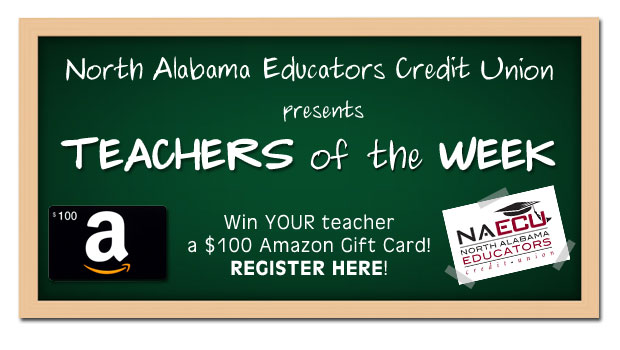 North Alabama Educators Credit Union want to congratulate these teachers who "took home the winning grade" during National Teachers Week!
Monday's Teacher:  Alyssa Watkins – Arab Primary School, 1st Grade
Tuesday's Teacher: Dr. Jennifer Steele – Weatherly Heights Elementary, Special Needs Pre-K
Wednesday's Teacher: Tiffany Smith – Mt. Carmel Elementary, Pre-K
Thursday's Teacher: Audrey Johnson, West Decatur Elementary, 5th Grade
Friday's Teacher: Lindsey McConnell, Creekside Elementary, 3rd Grade
North Alabama Educator's Credit Union, a financial co-operative supporting the local educational community since 1955.
Thank you for all of the entries nominating teachers across the Valley.