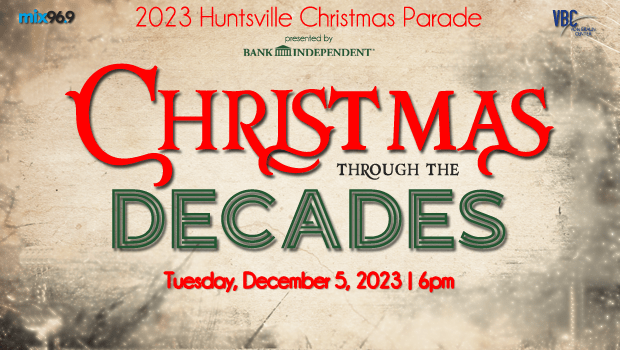 We want to make sure you have all the details on the 2023 Mix 96.9 Von Braun Center Huntsville Christmas Parade, presented by Bank Independent!
Date: Tuesday, December 5, 2023
Time: 6pm
Location: Downtown Huntsville
The parade will begin at 6pm, leaving Lot K on Clinton Avenue, led by our First Responders. There will be floats decorated with images of Christmas past – from the very beginning, the first Christmas, to a Christmas of the Future! We can't wait to see how our participants represent their chosen decade on their floats, in their music and in their presentation as the Parade moves through the streets of downtown Huntsville!
Click here for the MAP! That way you can plan your seats to watch!
Remember, when you are making your plans, the streets around downtown will be closing between 5-6pm.
We have an amazing team and our sponsors are the BEST!  Please take time to visit the sponsors, and use their services as often as possible!
Presenting – Bank Independent
VIP FunZone – Landers McLarty Chevrolet
Rockin' Rudolph – Mazda-Toyota Manufacturing
Santa's Sleigh – Fred Astaire Dance Studios Huntsville
Grand Marshall – Balanced Tax & Accounting
Pictures with Santa – Broadway Theatre League
Peace of Pizza – BV Medical Solutions
Judges – Schwarze Industries
Milk & Cookies – Preferred Computer Services
Hot Cocoa & Coffee – Rocket City Doulas
Letters to Santa – Legal Journeys
Christmas Coloring – Stretch Lab Huntsville
Ornament Decorating – We Rock the Spectrum Kid's Gym
Cookie Decorating – April's Love Bites
Warm Hands – Sunbelt Rentals
Gingerbread Houses – Rosenblum Realty