DAILY TRIVIA  April 12 – 16, 2021

Abby's trivia winners this week will pick up a pair tickets to Huntsville Ballet's "Peter and the Wolf", April 16-18 at the The Rock Church (in the old Butler High School)  Showtimes vary. "
---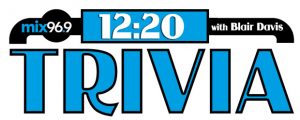 This week, Blair's trivia winners will pick up a Family 4 pack of tickets to Bloomin' Fest, April 17 & 18 on the grounds of St. Bernard Abbey in Cullman, along with 4 tickets to Ave Maria Grotto.
---

Jerome has a pair of tickets to the Spring Home & Garden Show, coming to the VBC South Hall April 23-25.
Remember – you can only win ONE contest every 60 days!