Due to COVID-19, all prizes will be mailed (as long as they fit in a #10 envelope with standard postage).  In the event a prize is too large to mail, arrangements will be made to pick them up from our business office.

September 14-18
This week, Abby's winners pick up a $50 gift card to Terrame Day Spa & Salon
---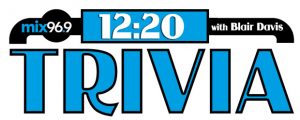 September 14-18
Blair's winners this week will receive a $25 gift card to Papa Murphy's!
---

September 14-18
No contest for Jerome this week….
Remember – you can only win ONE contest every 60 days!