DAILY TRIVIA  June 14 – 18, 2021

This week, Abby's winners will pick up a $25 Dunkin' Donuts gift card, plus some sweet swag!
---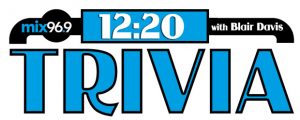 Blair's trivia winners this week will take home a pair of Baby Shark Live tickets, if you get the correct answer to her trivia question!
---

No contests for Jerome this week.
Remember – you can only win ONE contest every 60 days!