ALL CONTESTS HAVE BEEN SUSPENDED UNTIL FURTHER NOTICE DUE TO COVID-19. 
The business office is CLOSED at this time, and the on-air staff will be keeping you informed and updated, so please keep your radio tuned to Mix 96.9 or download our APP from Google Play Store or Apple Store.  Thank you for understanding and patience.  Stay well.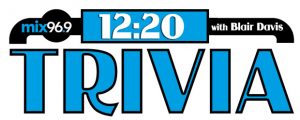 Remember – you can only win ONE contest every 60 days!