It's back!!

We want to know if you are "Mixin' at Work" – that is, listening to Mix 96.9 at your job!  Fill out the form below to let us know where you're listening, and we might just pay you a visit…AND if you're listening, we might just drop off a cool $100 bill!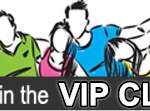 Want to also sign up for the Mix 96.9 VIP Club? It's where you can get information first hand concert and contest information!
Don't forget to sign up for the VIP Club!